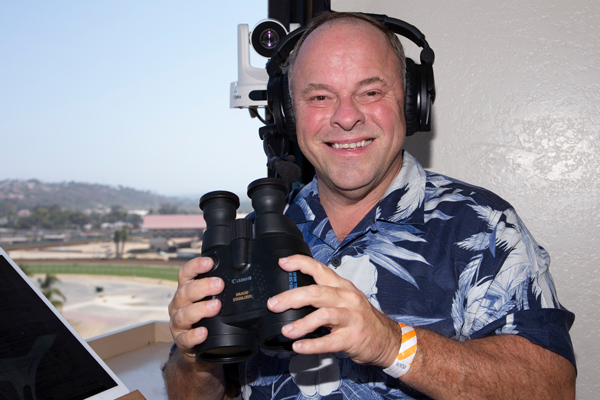 Larry Collmus © Benoit Photo
For the third time in the past three years, veteran race caller Larry Collmus will fill in at Del Mar for the track's longtime announcer Trevor Denman. This time he'll do it for the majority of the approaching Bing Crosby Season, which will run for 13 days between November 11 and December 4.
Collmus, who has called races at virtually every major racetrack in the country over the past 37 years and has been NBC's caller for both the Triple Crown and Breeders' Cup races since 2011, now will have called the three most recent fall sessions, as well as the 2020 summer season. The 56-year-old has drawn solid plaudits for his work at the track where the turf meets the surf.
For all three of his fall fill-ins, Collmus has had either Breeders' Cup or prior commitments that took away his ability to be on hand for a small portion of the meets. This fall that will be true once again and, as before, Del Mar steady backup announcer, John Lies, will handle the mic for the first weekend - November 11, 12 and 13.
"We're so fortunate that we again can call on the services of a first-class announcer like Larry," said Del Mar's president and COO, Josh Rubinstein. "Not only does he do an exceptional job for us in the announcer's booth, but he's a plus for our side on the social media scene as well. He brings good energy to the position and, besides, he just loves being here."
Del Mar will race on a Friday, Saturday and Sunday schedule throughout the ninth Bing Crosby Season, with the exception of an additional day of sport on Thursday, November 24, Thanksgiving Day. First post daily will be 12:30 p.m. (11 a.m. on Thanksgiving) with eight races planned for weekdays and nine for weekends.