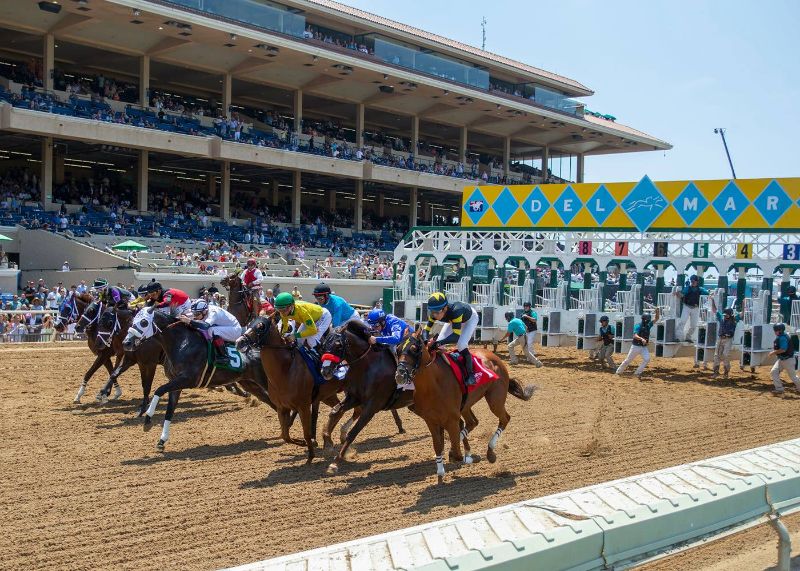 Del Mar Thoroughbred Club projected its most lucrative racing season ever last summer, then backed it up with a record-breaking meet that saw purse levels total above $25-million for the session resulting in an unprecedented average purse payout of more than $800,000 per day. Those numbers, the highest in California racing history, are in the track's sites once again with the aim, amazingly enough, to go even bigger and better for this year's 31-day stand, which will be the iconic track's 84th season.
As it did in 2022, the seaside oval will present 39 major stakes, six of which are designated as Breeders' Cup Challenges races, offering a total of $8,275,000 during its eight-week summer run. It also will continue its highly successful "Ship & Win" program to attract more horses to come and take part in the summer festivities and continue with its well-received Maiden Dirt Bonus plan, which was fully implemented last summer.
Del Mar's summer meet set records in 2022 with more than $18.7 million in daily average handle and a robust 9.1 average field size, ranking it high up among the nation's elite racing programs. Working with its partners at the Thoroughbred Owners of California, the picturesque racetrack just north of San Diego now plans to take it up yet another notch starting when the first fields break from the gates on Friday, July 21.
"We were absolutely thrilled by the huge response last year from our horsemen and horsewomen and our fans," said Del Mar's executive vice president and director of racing Tom Robbins. "The racing throughout the summer was extremely safe and first-rate. Obviously, 2022 set a very high bar on all levels; we're excited for the challenge of continuing these very strong trends."
The track's popular and lucrative "Ship & Win" incentive program will be in its 13th year and again provides owners and trainers of qualified runners with $5,000 starter bonuses and 50% purse supplements for dirt runners, as well as $4,000 bonuses and 40% supplements to grass starters.
Further still, Del Mar's Maiden Dirt Bonus plan, which expanded in 2022 to include all-aged maidens at the higher end of the scale, will lure runners to take part in the track's best non-winners races with sizeable purses of up to $102,500 per event for eligible participants. Additionally, Del Mar will be offering record levels for maiden special weight races (MSW) at the track this year of $82,000 each, the highest MSW purses in California history.
Track officials plan to release their full stakes schedule next week. Its biggest day will be Saturday, September 2 when it presents five graded stakes highlighted by Del Mar's premier offering, the $1,000,000, Grade I FanDuel Racing Pacific Classic at a mile and one quarter, captured last year in extraordinary fashion by eventual Horse of the Year Flightline, whose near 20-length romp is now considered the greatest race in track history.
"Del Mar is the pinnacle of racing in the United States," said Thoroughbred Owners of California chairman Gary Fenton. "And the success is enjoyed by and trickles down to all of California. Every summer gets bigger and better and it's all due to the tremendous work put in by DMTC and our horsemen and horsewomen."
The place "where the turf meets the surf" will open its season with a three-day weekend (Friday, July 21, 22 and 23), then have five four-day weeks (Thursday through Sunday), a five-day week (including Labor Day Monday, September 4), then finish with a Friday-through-Sunday weekend (September 8, 9 and 10).