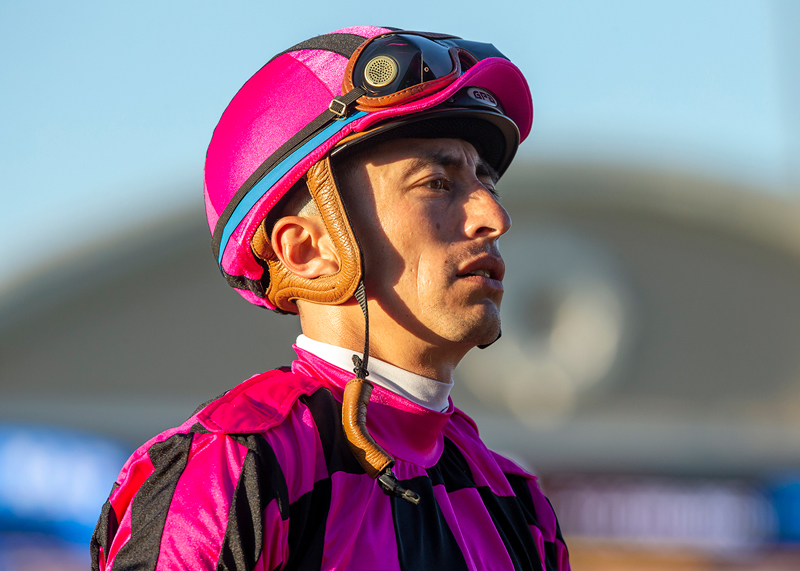 Juan Hernandez © Benoit Photo
There's an old saying 'The more things change, the more they stay the same.' It was never more evident than during the 2023 summer meet at Del Mar in both the jockey and the trainer standings.
Juan Hernandez won his second straight summer meet title despite the addition of a talented jockey, Antonio Fresu and the continued improvement of Umberto Rispoli, Hector Berrios, and Ramon Vasquez.
Hernandez won 39 races this summer, eight better than runner up Fresu. He tied for second for the most mounts with 174 despite missing four days during the meet. He posted eight victories in stakes races and compiled over $3 million in earnings, the only rider to exceed that mark.
Hernandez didn't run away with the title like he did in 2022. The outcome was still uncertain entering the final week and he didn't go wire-to-wire like last year. Rispoli led after week one and Hernandez was tied with Hector Berrios after week 2. But by the end of week three, Hernandez was in the lead and he spent the next three weeks holding off bids by Rispoli and Fresu. In the end, Hernandez was too tough and too consistent to overtake.
Fresu finished second with 31 victories. He won 10 races during week six but never got closer than five wins to Hernandez.
D'Amato notched his fourth trainer's title out of the last five meets at Del Mar. He's won the fall meet two years running.
Similar to 2022, the trainer's title came down to the final day. D'Amato went into the final day with a one-win lead over Baffert and two over Doug O'Neill. All three posted one winner on the day. D'Amato wins the summer meet title for the second straight year with 21 victories.
Last year, Bob Baffert won the G1 Del Mar Futurity with Cave Rock to tie Philip D'Amato for a share the trainer's title. This year Baffert won the Futurity with Prince of Monaco but came up one win short.
| Jockey | Mounts | 1st | Purses |
| --- | --- | --- | --- |
| Juan Hernandez | 174 | 39 | $3,332,946 |
| Antonio Fresu | 173 | 31 | $2,008,532 |
| Umberto Rispoli | 121 | 25 | $2,318,018 |
| Hector Berrios | 174 | 24 | $2,224,780 |
| Edwin Maldonado | 162 | 20 | $1,398,610 |
| Ramon Vazquez | 203 | 19 | $1,658,900 |
| Tiago Pereira | 149 | 15 | $1,132,396 |
| Mike Smith | 70 | 14 | $1,192,630 |
| Kent Desormeaux | 105 | 13 | $1,041,290 |
| Geovanni Franco | 104 | 12 | $989,684 |
| Trainer | Starts | 1st | Purses |
| --- | --- | --- | --- |
| Philip D'Amato | 134 | 21 | $2,299,204 |
| Bob Baffert | 63 | 20 | $2,409,980 |
| Doug F. O'Neill | 144 | 19 | $1,595,434 |
| Peter Miller | 126 | 16 | $1,193,624 |
| Peter Eurton | 63 | 16 | $1,067,610 |
| Mark Glatt | 87 | 15 | $990,900 |
| Michael W. McCarthy | 68 | 12 | $798,170 |
| John W. Sadler | 83 | 10 | $764,920 |
| Leonard Powell | 47 | 9 | $844,620 |
| Richard E. Mandella | 39 | 9 | $907,860 |