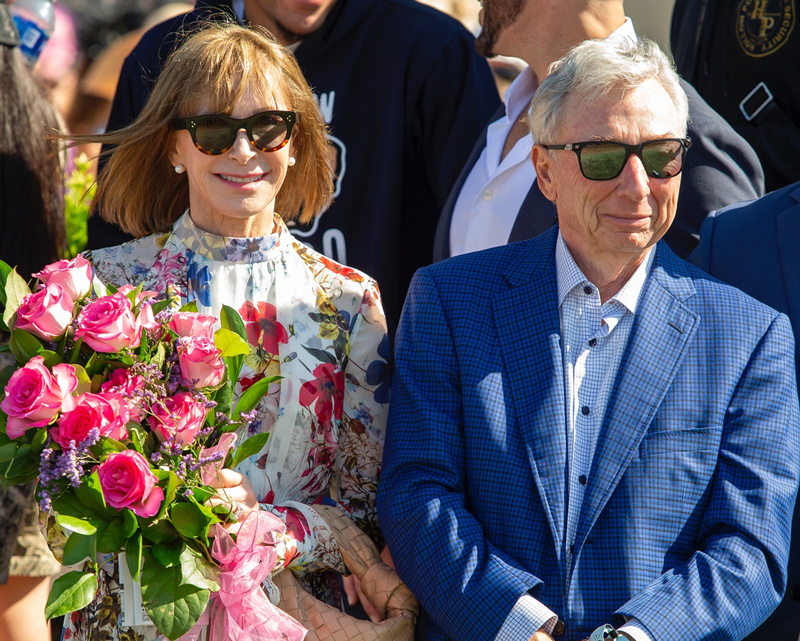 J. Paul (right) and Zillah Reddam © Benoit Photo
Reddam Racing, the nom du course for owner J. Paul Reddam, came away a double winner in the standings when racing came to a close at Del Mar Sunday.
The 68-year-old Canadian native but long-time Southern Californian led the 30-day meet with the most money won ($758,492) as well as the most trips to the winner's circle – six – to capture his third owner's title at the seaside summer session. He'd been the track's top owner for both money and wins in 2015 and was the leader for money-won in 2020.
Second on the owners' roster was the Zedan Racing Stables of Saudi Arabian investor Amr F. Zedan. They only won two races, but one of them was Del Mar's richest, the $1,000,000 FanDuel Racing Pacific Classic, which they captured with the rising 3-year-old Arabian Knight. It alone was worth $600,000 and was the key to the stable's second-place summer total of $713,200.
Finishing third was the partnership of Red Baron's Barn and Rancho Temescal with five victories and $387,200 in winnings. Tim Cohen heads that group for Rancho Temescal with Red Baron's Barn being the racing name for his late father Jed.
| Owner | Starts | 1st | Purses |
| --- | --- | --- | --- |
| Reddam Racing | 49 | 6 | $758,492 |
| Zedan Racing Stables | 4 | 2 | $713,200 |
| Red Baron's Barn and Rancho Temescal | 29 | 5 | $387,200 |
| Harris Farms | 20 | 3 | $381,400 |
| Spendthrift Farm | 11 | 4 | $378,260 |
| Eclipse Thoroughbred Partners | 9 | 3 | $368,820 |
| Little Red Feather Racing, Sterling Stables and Marsha Naify | 4 | 2 | $331,000 |
| SF Racing, Starlight Racing, Madaket Stables et al | 4 | 2 | $314,760 |
| C R K Stable | 27 | 2 | $300,460 |
| Hronis Racing | 34 | 4 | $283,820 |