By Jim Charvat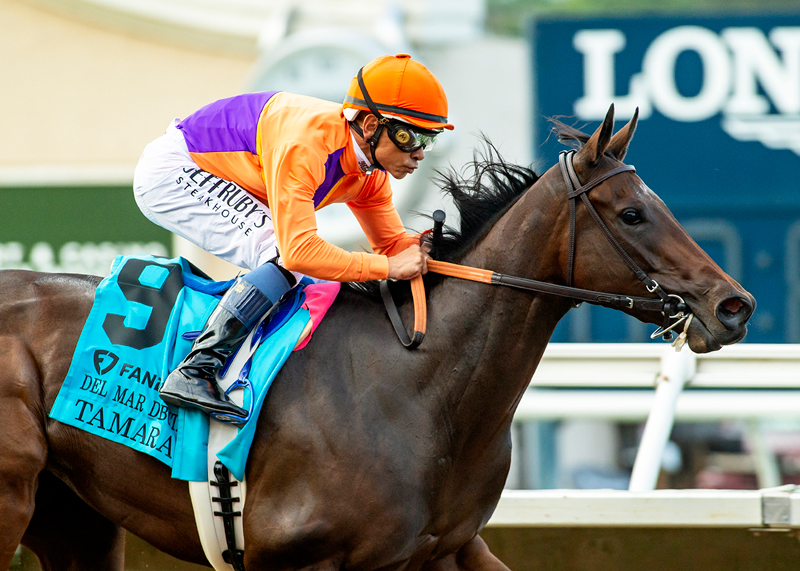 Tamara © Benoit Photo
DEBUTANTE WINNER TAMARA COMES BACK FINE, EYES BREEDERS' CUP
Horseracing's newest star was resting comfortably in her stall Sunday morning, 12-hours after captivating the patrons at Del Mar and those watching simulcasts worldwide. Her scintillating run in the G1 FanDuel Racing Del Mar Debutante was one to behold.
The daughter of Beholder sat closer to the pace than in her maiden victory, sitting second to Pushiness. When jockey Mike Smith asked her, Tamara breezed past the pacesetter, opened up by the top of the lane and cruised home much the best. It was as if she had been doing it for years and yet it was only her second career start.
The comments afterward told it all.
"It gave me chills," trainer Richard Mandella remarked in the winner's circle.
"I've been here in California for four years," jockey Umberto Rispoli said as he came off the track following his seventh-place finish in the race. "I have never seen anything like that."
Tamara's jockey, Mike Smith, was flashing his million dollar smile, grabbing hugs and slaps on the back from the owners and other well-wishers.
"You don't often see the offspring of a great mare run anywhere close to what they did," Smith told FanDuel. "But she's an exception to the rule."
They were talking about the daughter of Bolt d'Oro on the backstretch Sunday morning.
"Very impressive," trainer Leonard Powell said. "I told Gary Mandella (assistant trainer) after the race 'She's different, she's special.'"
"It was outstanding," trainer Peter Miller remarked. "She looked like her mother."
Mandella says Tamara came out of the race fine. In regards to a Breeders' Cup prep, he says they would play it by ear.
"There's a chance we might run her in the Chandelier (G1 October 7) at Santa Anita," Mandella says. "If it looks like she needs to run again, then we'll run her there. If not we'll point her straight to the Breeders' Cup. But so far she looks great."
That's something we can all agree on.
Lost in the performance by Tamara was the closing run by runner-up Laurent. Like Tamara, she was making just her second start. The daughter of Practical Joke broke from the 13 hole so she was wide from the start. She was wide through the turn but was still able to grab second at the top of the lane and, while she was never a threat to the winner, she finished better than the rest.
"She will probably go in the Chandelier," trainer Peter Eurton stated. "She needs more experience. She's so green. She's out there in the 20-path, eight wide around the turn. She needs to be a little more forwardly placed probably, but we're very happy with her outcome and her progression."
---
LARGE FIELDS, QUALITY RACING MARK SUCCESSFUL MEET AT DEL MAR
As we close the book on another summer meet at Del Mar the numbers are proving once again that people love to race at Del Mar. It was a fabulous eight weeks of horse racing. Field sizes were up, the stakes races showcased some of the best horses in the game, and most importantly, it was another safe meet for our equine athletes.
"Overall, just a tremendous summer of quality racing," Racing Secretary David Jerkens says. "Especially Pacific Classic Day. You look back and see how strong of a card that was. I think some of the winners and horses that ran well on that card have bright futures for the Breeders' Cup."
The talk around the racing industry is the field sizes again this year at Del Mar. Not quite as high as 2022, but that was expected.
"It was a robust number that I think any track in the country would kill for," Jerkens says. "We knew last year would be difficult to match but we are very close to what we had last year. I think two years in a row, when you're over or hovering around nine runners a race, that's a pretty strong accomplishment."
Providing there are no late scratches on Sunday, the average field size for the dirt races at Del Mar this summer was 8.47 and for the turf races it was 9.50. Stake races, which are the hardest to fill, had an AFS of 8.56.
"We had a strong product throughout," Jerkens notes. "We did have the (one day) weather cancelation but we made up all those races that were canceled. We had to cancel nine races so we were shifting races in and out. We moved the Solana Beach Stakes race; we ran it on the following Friday."
Tropical Storm Hilary was actually the only hiccup all summer. The storm prompted horse evacuations, canceled racing that Sunday, August 20 and eventually dumped two inches of rain on the backside. But from all reports afterward, what little flooding there was in the stable area had no impact on the horses and things were back to normal in just a couple of days.
The "Ship & Win" program was a success once again this summer, contributing to the large field sizes.
"The results were pretty much what we expected," Jerkens says. "I think we were 14% off the number of starters from last year but that was another expectation we had to curtail a bit because we knew, in reality, it would be hard to match. We may still end up with our second most 'Ship & Win' runners."
Heading into the final weekend, 171 "Ship & Win" starters debuted at Del Mar this summer. Twenty three made it to the winner's circle, six last week.
"You can do all these different programs," Jerkens concedes, "but all that means nothing unless you get the support in the entry box. That's what we had from our horsemen once again."
So, now we look ahead to the fall meet, something Jerkens has already started planning.
"Hopefully we'll have our stakes schedule released in the upcoming weeks," Jerkens says. "We're starting to plant seeds for the fall. Generally, if the weather cooperates and we're able to run on the grass we'll have a successful meet. Last year everything went well, knock on wood. We were fortunate in terms of the weather. We had really strong fields our last two weekends and expectations are for more of the same, but a lot is dependent on the rain."
The four-week Bing Crosby meet kicks off the week after the Breeders' Cup, November 10.
For Jerkens, the end of the summer meet is the end of a very long process that actually goes year round. He'll take some time off before he and his staff get cracking on the fall meet. But for the moment, he'll enjoy this successful and fulfilling summer meet.
"Absolutely," Jerkens says. "You hear from more people across the country than normal about them taking notice of what Del Mar had to offer this summer. I think we had the strongest day-to-day race product around this summer.
"My staff worked really hard," Jerkens continues. "There's a lot of planning that goes into it. You don't just show up Opening Day and here it is. But again, so many owners and trainers really want to be part of Del Mar and they provided tremendous support this summer."
---
CLOSING TIME AT DEL MAR
After the last ticket is cashed Sunday evening and the grandstand has gone quiet, a mass exodus begins to take place in the stable area. With another racing season put to bed, the trainers and their staffs will be busy with the task of moving out over the next week. They'll be packing up their stock and equipment and heading out of the Del Mar Fairgrounds to their next destination. Some will head up to Orange County and Los Alamitos. Most will make their way to Arcadia and Santa Anita Park.
For many, the big move starts Monday. Barns, like that of trainer Phil D'Amato, will begin moving up to 50 horses, a job that will require multiple horse trailers and U-Hauls. Jimmy Durante Blvd will see a constant flow of big rigs and other moving vehicles over the next week, hauling away some very valuable cargo.
"Monday and Tuesday we'll be disassembling everything," D'Amato says. "It's a couple of days and then we'll ship it up to Santa Anita."
There were up to 1,900 horses at one time on the backside at Del Mar during the summer meet. Some have already left. There are several empty stalls where once a Thoroughbred popped its head out to survey the surroundings. Many Northern California horsemen, who come down for the summer, head home when Golden Gate Fields opens at the end of August.
"It's all the guys coming together," trainer Peter Eurton says of his moving operation. "We're not shipping until Wednesday evening at 10 o'clock at night when it's cooler. Everybody jumps in there together, all of the employees. It's a pretty big ordeal."
Eurton had a string of 47 horses at Del Mar this summer. He says knowing each and every one of them helps when it comes time to load them on the moving van.
"Hopefully none of them balk at it," Eurton says. "Some get a little gun shy about going onto a van. Knock on wood, we didn't have any issues coming down. But most have been in the van so many times, it's almost old school to them."
Trainer Richard Mandella has to pack up one of the largest string of horses on the grounds, not to mention the tons of equipment, from saddles to halters to feed tubs.
"In the old days I use to load every horse myself," Mandella says. "But now I have my son and the team that has been here forever so I just let them do it in the middle of the night, which they like to do because it's quiet and cool. Just takes one day, the middle of Tuesday night.
"We'll start at 10," Mandella continues. "They'll load the tack up first and then the horses will go a stall and a half, not single stalls. That way they don't get banged up, they don't get upset and ship a lot easier."
A majority of those working on the backside are reluctant to leave. Del Mar is a favorite destination for so many. You'd be hard pressed to find someone who doesn't like it here. But they all have to make a living and for the next few months the work they do is about a hundred miles north of here.
"Oh, it's so much fun," trainer Leonard Powell says jokingly about the move. "We're used it. It's the same every year. We only move once a year, back and forth to Del Mar. It takes a bit of coordination but we get it done."
As for his horses, Powell makes sure they all have bandages for their legs and bell boots for their hooves so they don't grab themselves.
For trainer Carla Gaines, it's a two-day process.
"My staff do that, they've been doing it for so long," Gaines says. "But it's never fun or easy that's for sure. We'll start packing and organizing and get our last works in. Then we'll put them on a van the next day and get out of town."
A majority of trainer Peter Miller's horses will be making the short ride over to San Luis Rey Downs in Bonsal.
"We'll split it," Miller says. "About two-thirds San Luis Rey and one-third Santa Anita. I have a staff, my assistant trainers and foreman, they handle the nuts and bolts of it."
Many backside workers have families they left behind up in Los Angeles. That also goes for several jockeys. They're not excited about leaving Del Mar but they are, understandably, eager to get home to their wife and kids.
One things assured, they'll be back in November for the Bing Crosby meet. Four weeks of racing at the seaside oval that begins November 10.
"Getting to race at Del Mar is a big deal, especially in the summer," racing secretary David Jerkens says. "People gear up for this season. I speak to people, this eight weeks is why they're in the game year round."
---
COOLING OUT: Trainer Carla Gaines says Closing Remarks looks very good this morning following her impressive victory in the G2 John C. Mabee Saturday. As for her next race, Gaines says she wants to wait to see how she's doing in the next few weeks. "That race at Santa Anita (the G2 Rodeo Drive October 7) comes up a little quickly. I don't even know if we will run in the Breeders' Cup. The (Filly and Mare) Turf is a pretty tough race."…The winner of the $100,000 Juvenile Fillies Turf Saturday was rewarded by trainer Peter Eurton. He let her sleep in this morning. Eurton says he'll probably train Flattery up to the Breeders' Cup. "She's a big, tall, lanky kind of filly, who's very professional. We might as well go in there fresh."…The San Diego Union-Tribune ran a Page 1 story today on Del Mar's unique program to provide free dinners to its backstretch workers on all race days this summer. Columnist Bryce Miller and photographer Meg McLaughlin did a first-rate job of telling the tale…Notable works on Sunday: Dirt – Anarchist (4f, :48.00); Big Pond (4f, :49.00); C Z Rocket (4f, :50.60); Bye Bye Bobby (5f, 1:00.80); Desert Dawn (5f, 1:00.00) and Elm Drive (5f, 1:00.00). A total of 161 horses put in official works Sunday morning.
---
Del Mar Statistics
Jockey Standings
(Current through September 9, 2023 Inclusive)
| | | | | | | | |
| --- | --- | --- | --- | --- | --- | --- | --- |
| Jockey | Mts | 1st | 2nd | 3rd | Win% | In-money% | Money Won |
| Juan Hernandez | 167 | 37 | 24 | 24 | 22% | 51% | $3,152,066 |
| Antonio Fresu | 171 | 31 | 25 | 22 | 18% | 46% | $1,990,032 |
| Umberto Rispoli | 113 | 24 | 25 | 18 | 21% | 59% | $2,223,338 |
| Hector Berrios | 165 | 23 | 26 | 12 | 14% | 37% | $2,184,400 |
| Ramon Vazquez | 194 | 19 | 21 | 24 | 10% | 33% | $1,613,680 |
| Edwin Maldonado | 156 | 19 | 16 | 15 | 12% | 32% | $1,368,410 |
| Tiago Pereira | 142 | 15 | 12 | 17 | 11% | 31% | $1,102,356 |
| Kent Desormeaux | 100 | 13 | 12 | 13 | 13% | 38% | $983,010 |
| Mike Smith | 67 | 13 | 3 | 9 | 19% | 37% | $1,140,150 |
| Geovanni Franco | 98 | 12 | 7 | 12 | 12% | 32% | $982,264 |
Trainer Standings
(Current through September 9, 2023 Inclusive)
| | | | | | | | |
| --- | --- | --- | --- | --- | --- | --- | --- |
| Trainer | Sts | 1st | 2nd | 3rd | Win% | In-money% | Money Won |
| Philip D'Amato | 129 | 20 | 16 | 23 | 16% | 46% | $2,216,564 |
| Bob Baffert | 58 | 19 | 6 | 5 | 33% | 52% | $2,164,060 |
| Doug F. O'Neill | 135 | 18 | 14 | 15 | 13% | 35% | $1,504,874 |
| Peter Miller | 116 | 15 | 18 | 17 | 13% | 43% | $1,123,444 |
| Peter Eurton | 61 | 15 | 15 | 6 | 25% | 59% | $1,048,750 |
| Mark Glatt | 85 | 15 | 10 | 16 | 18% | 48% | $982,600 |
| John W. Sadler | 79 | 9 | 14 | 10 | 11% | 42% | $736,320 |
| Michael W. McCarthy | 61 | 9 | 7 | 5 | 15% | 34% | $602,370 |
| Leonard Powell | 47 | 9 | 6 | 2 | 19% | 36% | $844,620 |
| Richard E. Mandella | 36 | 9 | 2 | 4 | 25% | 42% | $894,860 |
Winning Favorites Report
(Current Through September 9, 2023 Inclusive)
Winning favorites -- 102 out of 275 -- 37.09%
Winning favorites on dirt -- 62 out of 155 -- 40.00%
Winning favorites on turf -- 40 out of 120 -- 33.33%
Winning odds-on favorites -- 22 out of 40 -- 55.00%
In-the-Money favorites -- 180 out of 275 -- 65.45%
In-the-Money odds-on favorites -- 32 out of 40 -- 80.00%