Diamond Club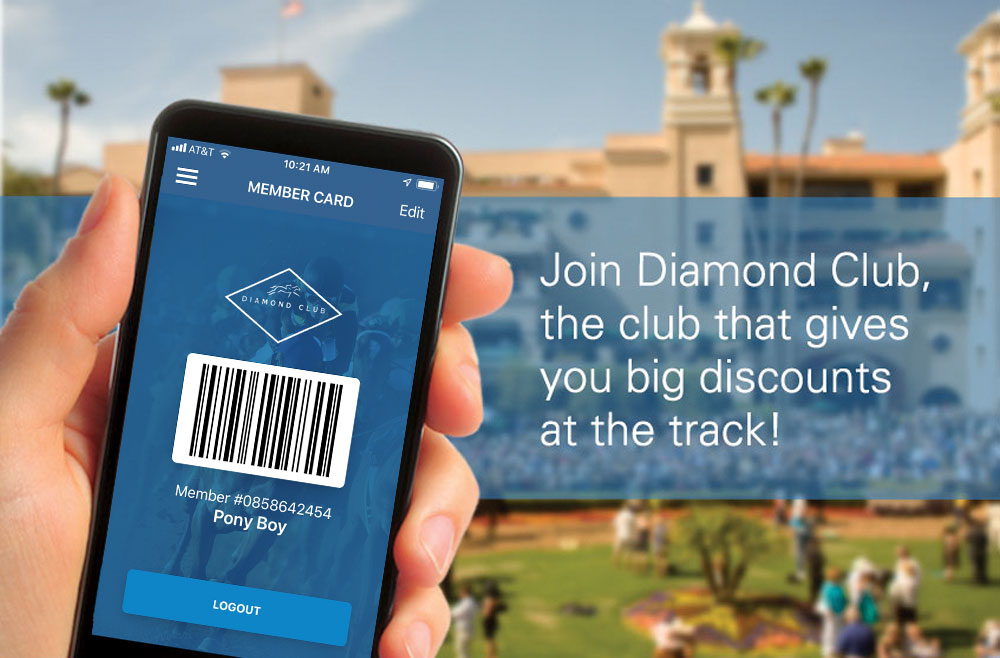 Everyday Discounts

From admission discounts, ticket deals and happy hour specials. Diamond Club members can take advantage of all Del Mar has to offer.

Download the

Del Mar Mobile App

and sign up with a valid email address to unlock membership perks.

Note: You must be a Diamond Club member and scan your membership card at designated Admission Gates and Concession stands to access perks.

Everyday Admission Discounts

Regular Price
Diamond Club

General Admission

$8.00

$4.00

Opening Day Admission

$30.00

$4.00

Bing Crosby Admission

$6.00

$3.00


Note: Diamond Club discount available at admission gates. Discounts will not be applied retroactively, automatically, or in the event admission is sold out.

Membership Perks

Keep an eye on our events calendar and your email! Diamond Club members get frequent perks at the track including exclusive giveaways, food & beverage discounts, attendance rewards and special events.

Account Wagering & Player Rewards

Turn your Diamond Club membership into a wagering account to use at any self-service machine or from your smart phone. After your account is activated, simply load funds on your account and avoid the hassle of losing tickets or waiting in line! More Info.

Diamond Club Membership Rules

Please review the Diamond Club Membership Rules for program terms and conditions.

---

Diamond Club membership is subject to the terms and conditions established periodically by the Del Mar Thoroughbred Club. A valid email address is required to sign up for the Diamond Club. The Diamond Club card is the property of the Del Mar Thoroughbred Club and must be surrendered upon request. Photo identification may be required upon use of this card. The Diamond Club card is non-transferable and may be used only by the person who signed up for the card. Limit one membership per person. Use of the Diamond Club card by those other than the owner may result in immediate confiscation and cancellation. Diamond Club offers are subject to change without notice. The Del Mar Thoroughbred Club reserves the right to charge a replacement fee for lost, stolen or mutilated cards. All DMTC, SSRP and any of their affiliates are not eligible for membership nor any special offers associated with the Diamond Club. Complete rules available on request.